About the Award
An annual "Russian Mining Excellence Award" was established at the MINEX forum in 2007. The award has become an instant success by offering an unbiased and independent platform for highlighting success stories and awarding Russian and International companies and managers for their outstanding achievements in improving mining industry standards and practices in Russia. The main purpose of the award is to contribute to the competitive spirit and promote best achievements in the Russian mining industry.
The past awards results are available here: http://www.minexforum.com/en/award/
The Award ceremony and Gala Dinner took place on 5 October at the Moscow's architectural jewel – the "Royal Hall", 22 Begovaya Str. Bld 1. Venue website: http://www.royalhall.ru
The Award Dinner was widely covered by the Russian and International mining Media.
Award nominees and winners received memorable diplomas.
The winners awarded by the metal plated plaque and a valuable bespoke handmade bronze sculpture set on the semiprecious stone plinth.
Results of the ceremony will be published on MINEX websites www.minexforum.com, www.minexrussia.com and will be covered by the Russian and international media partners of the "MINEX Russia 2011" forum.
We wish all nominees best of luck. You are officially the best!
Russian Mining Excellence Award 2011 nominations
"PROSPECTOR OF THE YEAR"
Evaluation criteria: Achievements in expanding mineral resource base and increasing mineral reserves:
1. Discovery of new deposits
2. Addition of mineral resources
3. Revaluation of mineral reserves
4. Public recognition of achievement

Winner
EuroChem-VolgaKaly
| | | |
| --- | --- | --- |
| | Uralskaya Mining and Smelting Company | Completion of exploration works at the Levoberezhnoye deposit of copper-sulphide ores which resulted in reserves having been approved and then placed on a state reserve balance. In-place reserves in category С1+С2 have been added with 20.4% of ore and with 14.0% of copper. Gold and silver reserves have been registered for the first time. The deposit is prepared for commercial development. |
| | EuroChem-VolgaKaly | Advanced exploration works which added 40.7% (or 467.1 million tons) of raw abraum salts reserves in category В+С1+С2. The category В+С1 reserves increased by 224% (or 867.4 million tons). The total amount of reserves of the Gremyachinskoye deposit accounted by the state register is now 1.614 billion tons of raw salts. The specified reserves would provide operations of the plant for more than 100 years. The deposit development will be conducted at depths over 1,000 m. At the moment the tapping shafts are being constructed at the deposit. |
| | Hard-rock gold deposit Pavlik (Ten'kinsky District, Magadan Region) | In December 2010, the State Commission for Reserves Rosnedra approved gold reserves (over 100 tons of gold, C1+C2 category) and exploratory standards. Similar data were received in JORC format. The data resulted from follow-up exploration in 2011 that showed that the gold ore mineralization is present both at deposit flanks and deep horizons. Currently, Pavlik deposit's reserves are estimated at 200 tons of gold. The total potential of the deposit is 300 to 500 tons of gold, taking into account undiscovered potential resources. Currently, the preparation for the mining and processing complex construction is in process (commissioning is planned for December 2013), the annual capacity of the first-phase open pit will be 2.5 million tons of ore and 5 million tons of gold. After the implementation of the second phase, the capacity will increase up to 4 million tons of ore and 8 to 10 million tons of gold. |
"MINING COMPANY OF THE YEAR"
Evaluation criteria: Successful development of a project during the period between two MINEX Forums.

Winner:
Mechel-Mining
Mechel-Mining OJSC

Successful development of the world class Elga coking coal deposit and launch of the first stage in August 2011 with an annual capacity
of 1 million tons of coal. Construction and commissioning of a 200 kilometres railroad and beginning of coal shipping. Complex development programme comprises infrastructure facilities and processing capacities construction.

Baikal Mining Company

Development of a large world class project Udokan. Determination of the optimal process flowsheet for Udokan deposit. Performing a number of pilot tests which produced grade A copper cathodes according to LME specifications.

"Arkhangelskgeoldobycha"

Implementation of the construction project of ore mining and processing works at the high-grade diamond deposit Trubka im. Griba. Project documentation for the first stage "Deposit opening" has been prepared and approved. Stripping has been started in March 2011. So far 4.4 million m3 of stripping has been moved. Project documentation and construction permit have been received for the stages "Field camp" and "Energy complex". Investment for 2011 of 7.6 billion roubles.
"INVESTOR OF THE YEAR"
Evaluation criteria: Significant investment in a mining project.

• Organisation of early stage investment to a major project

• Total volume of investment in the mining industry for the last year

Winner:
"Arkhangelskgeoldobycha"
| | | |
| --- | --- | --- |
| | Russian Copper Company | Large-scale investment in acquisition and development of copper and coal deposits; including Mihheevsky and Tominsky GOKs and Kyzyl-Dere deposit. |
| | Kinross Gold | Large-scale investment in the Kupol deposit, making Kinross the first international investor to acquire 100% ownership of a strategic mining asset in Russia |
| | "Arkhangelskgeoldobycha" | Implementation of the construction project of ore mining and processing works at the high-grade diamond deposit Trubka im. Griba. Project documentation for the first stage "Deposit opening" has been prepared and approved. Stripping has been started in March 2011. So far 4.4 million m3 of stripping has been moved. Project documentation and construction permit have been received for the stages "Field camp" and "Energy complex". Investment for 2011 of 7.6 billion roubles. |
| | Polymetal | Investment in the Albazino project development (Khabarovsk region) |
"MINING EDUCATION PROJECT OF THE YEAR"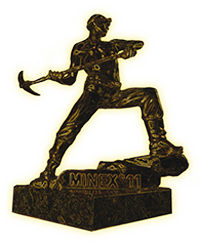 Winner:
Pokrovskiy Mining College
"MINING LEGEND"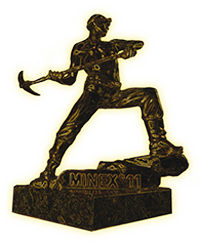 Winner:
Peter Hambro